A Brief History Timeline of ESOPs.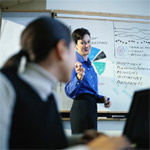 As we developed Esop Marketplace, we started thinking about how ESOPs originated, and what road they traveled to go from an interesting, though esoteric, idea in an economic treatise to an industry in its own right, with dozens of companies and hundreds of advisors specializing in ESOPs as a means of ownership transfer. We began to research ESOP history, including the theoretical work done as far back as the 1950s by Louis Kelso and Mortimer Adler to explore ways for employees to take ownership of their workplace; the legislation passed in the mid-1970s to 1980s that enshrined ESOPs in tax and labor law; and the ways that the industry has managed to innovate and grow.
We tracked down and interviewed a number of the key individuals who had a hand in establishing this field, whether by doing seminal work in designing ESOP documentation and laws, or getting into the field as financiers and advisors and helping to provide capital and human talent. These interviews offer rare first-hand insights into the formation and evolution of a financial field, as well as valuable advice for fledgling ESOP advisors and business owners who are considering implementing an ESOP.


Roland Attenborough - After reading Louis Kelso and Mortimer Adler's seminal "Capitalist Manifesto" as an undergraduate at UC Berkeley in 1959-60, Attenborough was inspired by the ideas in the book and began a years-long correspondence with Kelso. Kelso's ideas about capital distribution and worker participation in ownership became the underlying framework for ESOPs in the following decades. After graduating with a degree in taxation, Attenborough eventually became an associate at Louis Kelso's firm, where he was instrumental in developing blueprint documents for ESOPs and was involved in some of the first employee ownership plans in America. He has worked in the field for many decades, and is one of the most experienced ESOP advisors and tax lawyers in the country.
Read the full interview with Roland Attenborough on ESOPMarketplace.com.»
Merri Ash - In the 1970s, Merri Ash got a start in bank record keeping services working for SEI Investment Company, at the time the largest provider of trust accounting systems. During that time, she was involved in SEI's initiative to developed a fully-automated, computerized trust and investment accounting system - a first in the business. When Congress started to pass laws codifying employee stock plans such as ESOPs and TRASOPs, SEI decided to enter the new field, and Ash became the company's go-to expert on stock plans. She has been involved in ESOPs ever since, managing numerous major ESOP transactions, holding offices in organizations such as the ESOP Association, and doing "just about everything you can do in this business."
Read the full interview with Merri Ash on ESOPMarketplace.com.»
Dickson C. Buxton - Buxton was running a large and diversified financial company in the San Francisco Bay Area, when one of his clients asked for help in buying out a majority shareholder. After discovering that this wasn't possible with after-tax dollars, Buxton was introduced to Louis Kelso, who had an ingenious idea of structuring the buyout as a benefit and avoiding large tax liabilities. The transaction was a success, and Buxton was impressed enough to create an ESOP division in his company, and, eventually, selling off all the other divisions to concentrate exclusively on private company investment banking. Since co-founding Private Capital Corp in 1976, Buxton has been deeply involved not only in financing and structuring ESOPs, but lobbying Congress to pass ESOP rules and tax benefits, as well as co-founding the National Association of ESOP Companies.
Read the full interview with Dickson Buxton on ESOPMarketplace.com.»
Jerry Kaplan - Kaplan was working as a tax lawyer at an investment banking firm in Chicago, when ERISA passed and first enshrined ESOP in tax law. Nobody in finance or tax knew anything about the new rules, what they meant for stock plans and how they could be used in ownership transition. The following year, Kaplan was invited to a conference on ERISA, and ended up presenting a paper on ESOPs. This paper turned out to be the first publication on ESOPs in tax literature, and Kaplan was drawn into the fledgling field to become one of the nation's preeminent ESOP experts and advisors. He has been involved in some of the biggest and best-known ESOP transactions over the decades, such as the United Airlines ESOP.
Read the full interview with Jerry Kaplan on ESOPMarketplace.com.»
Dennis Long - From humble beginnings as a one-man operation in Appleton, Wisconsin, Dennis Long founded BCI Group and saw it grow to the largest ESOP administration firm in the country, with 120 employees and clients in all 50 states. When tax laws started to change in the early 1980s and ESOPs became plans that offered serious tax benefits, Long became determined to capitalize on the opportunity and spent years building a nationwide client base as an ESOP management expert. Unlike asset-based plans, which took the time and attention of major financial services companies, ESOPs were an esoteric and complicated instrument; by getting in on the ground floor of the new industry, Long's BCI Group became one of the country's go-to companies for ESOP administration, until its acquisition by Principal Financial Group in 2003.
Read the full interview with Dennis Long on ESOPMarketplace.com.»
Greg Brown - Brown took an early beginning in the ESOP field: in his first year of practice with law firm McDermott Will & Emery, he got involved in so-called "tax credit employee stock ownership plans." The plan offered a tax credit of up to 11% for companies that contributed or invested in their employee stock benefits. Greg Brown was the person tasked with understanding the new tax breaks and helping companies implement them. In the years immediately after ERISA was adopted, new regulations streamed out of the IRS and Labor Department almost every week, and Brown needed to learn on the job and keep up with the new rules at the same time as he was drafting plan documents for clients. The head start, along with the ensuing three-odd decades of ESOP work, have made him one of a handful of the nation's most experienced ESOP lawyers. He has graciously agreed to be interviewed for the ESOP Marketplace Advisor Hall of Fame.
Read the full interview with Greg Brown on ESOPMarketplace.com.»
Sue Ledingham - An indefatigable learner, Sue Ledingham has worked with ESOPs for a long time and has worn many hats in the field. Her career started at the office of an insurance agent, administering defined benefit plans. When ERISA landed and caused an earthquake in taxes and benefit law, Sue was among the first wave of benefits experts who jumped into the field and learned how to comply with reporting and disclosure requirements. She got a start in employee stock plans when working for ESOP pioneer Rainer Schaaf. She has been closely involved with the ESOP community, helping to develop the ESOP Administration Handbook, a definitive introduction to ESOPs for businesses. Sue has agreed to share her wisdom and experience with ESOPs in a comprehensive interview that details her history in the field.
Read the full interview with Sue Ledingham on ESOPMarketplace.com.»
Corey Rosen - Unlike most people on this list, Corey Rosen didn't start out in the finance sector. He trained as a political scientist, and worked as a Congressional advisor for the Senate Small Business Committee from 1975 to 1980, being closely involved in two major pieces of financial legislation: the Chrysler Loan Guarantee Act that bailed out the troubled company in 1979-80. He also worked on drafting Section 1042 of the Internal Revenue Code - the tax deferral for owners. He became involved in ESOPs when a business owner pointed out a disparity in capital gains taxation between an internal sale of a business and a third-party buyout. He has co-written bills that give tax incentives to ESOP companies, benefitting owners and workers. He has shared his insights and experience in an interview with ESOP Marketplace.
Read the full interview with Corey Rosen on ESOPMarketplace.com.»